Event Start Date:
25th March 2021
Event End Date:
25th March 2021
Event Venue:
Online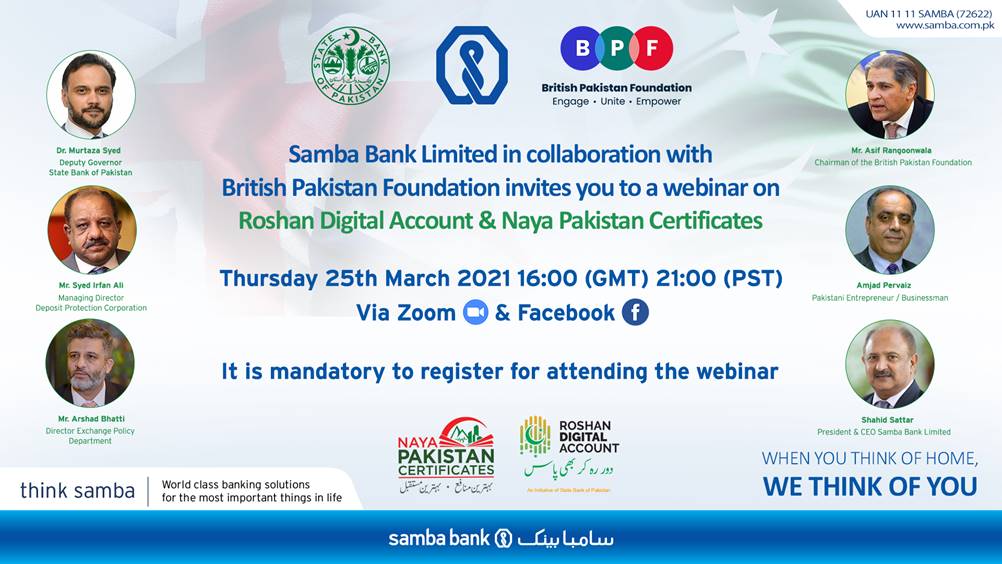 Map Unavailable
Date/Time
25/03/2021 4:00 pm - 5:00 pm
Categories
Samba Bank Limited in collaboration with British Pakistan Foundation invites you to a webinar on:
Roshan Digital Account & Naya Pakistan Certificates
Brief Discussion Points:
Contribution of the NRPs in upliftment of Pakistan's economy / increasing remittances every year

Importance of UK NRPs in being backbone for Pakistan's economic upliftment

Dur Reh Kar Bhi Paas

  —  In line with the vision of our Prime Minister, Imran Khan – SBP under the able leadership of Dr. Reza Baqir & his team has done a fantastic job in launching Roshan Digital Accounts.

Opening a channel to connect the NRPs to their homeland.

1

st

 time in Pakistan's banking history that SBP has allowed presence-less account opening for facilitation of the hard-earning NRPs opening account with Pakistan

Excitement amongst the Pakistani diaspora on RDA benefits and the attractive returns offered by the NPC, Stock Exchange & Real-Estate Market

Exciting / attractive returns available on the Naya Pakistan Certificates (NPCs)

That NPCs were earlier available in PKR & USD, however in order to attract the interest and investment of NRPs based in UK & EU, NPCs (Islamic & Conventional) have also been launched in GBP & EUR at an extremely attractive rates.

Option to invest in Islamic Naya Pakistan Certificates is also available

Samba Bank Limited's superior digital banking platform and seamless account opening procedure

Fast Track Account Opening
Dedicated Branches Across Pakistan & Dedicated / Experienced Relationship Managers assigned to RDA customers from 1

st

day of onboarding

Investment in Naya Pakistan Certificates (in PKR & USD ~ Conventional & Islamic), Real Estate Market, Pakistan's Stock Market
State of the Art Mobile and Internet Banking

Efficient Customer Servicing
After registering, you will receive a confirmation email containing information about joining the webinar.