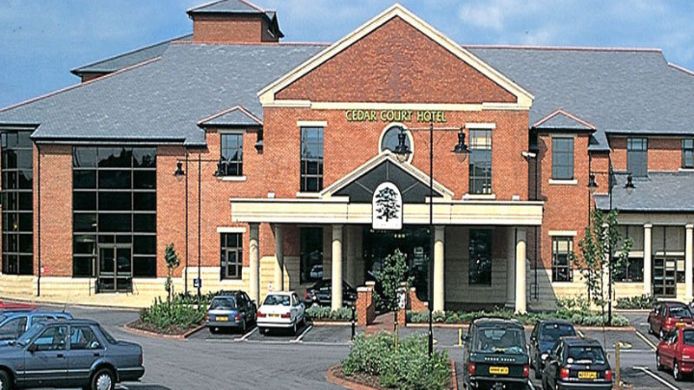 Map Unavailable
Date/Time
21/03/2019 6:30 pm - 8:30 pm
Location
Clarion Cedar Court Leeds/Bradford Hotel, Rooley Lane, Bradford, BD5 8HW
Categories
Event Start Date:
25th March 2019
Event End Date:
25th March 2019
Event Venue:
BPF is delighted to invite you to our first ever Bradford event – the BPFSocial! Professional Networking Event at the Cedar Court Hotel in Bradford on the 21st of March from 6.30-8.30pm.
The aim of this event is to provide attendees an opportunity to listen to inspirational speakers from different industry sectors on their "Recipes for Success". This is followed by a Q&A session and networking over refreshments. Attendees benefit from valuable connections for business, work, mentoring and peer to peer support.
Our inspirational speakers include:
Keynote Speaker: Aneel Mussarat (CEO, MCR Property Group) – TBC
After completing high school, Aneel started to buy, renovate and rent out properties in Manchester that were within the range of £10,000 upwards. Aneel worked dedicatedly in his "buy to let" business and Aneel developed important contacts with the stakeholders of his business. His hard work and commitment earned him good name and reputation among his business peers. Aneel moved up the ladder with time and started, constructing and renting out properties through a Private Limited Company named as "Classic Homes". Due to his success in private housing market, Aneel's interest expanded into commercial sector. Aneel also specialized in student residences in Manchester, most notably he undertook the "Student Villages" project. He is also famous by the title of "Student Housing Magnate". In January 2013, Mussarat was awarded the Businessman of the Year award at the British Muslim Awards. He is also part of the Conservative Friends of Pakistan Group.
Adeeba Malik (Deputy Chief Executive for QED)
Deputy chief executive Adeeba Malik was awarded the MBE for her work with ethnic minorities and businesses and the CBE for services to community cohesion.
She has held many ministerial and non-ministerial appointments on national boards including the Women and Work Commission and British Waterways. She has also chaired the National Ethnic Minority Business Forum. Adeeba has served on the Advisory Board on Naturalisation and Immigation, the National Clinical Assessment Authority and the Green Deal Women's Panel.
Appointments closer to home have included board member at regional development agency Yorkshire Forward, governor of Sheffield Hallam University and director of Northern Ballet.
She is on the Bradford Opportunity Area board and a member of The Cabinet Office Race Disparity Advisory Group.
Waseem Nazir (Solicitor and Part-Time Judge)
Waseem Nazir is a renowned Solicitor in the field of human rights, asylum and immigration. Waseem is principal and managing partner of Batley Law, a niche law firm, representing a wide and diverse community of clients. The firm has secured a legal aid contract and carries a specialist quality mark for excellence.
Waseem has also recently been appointed a freelance Judge of the First Tier Tribunal (Immigration and Asylum Chamber), Waseem is an established asylum and human rights practitioner.
Waseem has also worked with Leeds Beckett University as a lecturer, teaching undergraduate law students in the area of Mental Health Law and Policy.
Pragmatic, forward thinking and pro-active, Waseem has built a solid reputation in the field of asylum and immigration over the past 10 years. Waseem has a very strong client following, reflecting his commitment to client care and high success rate. He has a passion for human rights and about the plight of refugees entering this country, many of whom have gone through harrowing and traumatic experiences in their home countries.
In addition to his work commitments, Waseem is actively involved in the local and wider Asian community, and has a large network of contacts within the business and legal community.
Adil Mohammed Javed (Founder and Artistic Director, Alchemy Arts)
Adil is a professional actor, scriptwriter, researcher and workshop facilitator. He has featured in films such as Bradford Riots (Neil Biswas 2006) as well as BAFTA award winning films Britz (Peter Kosminsky 2007) and Four Lions (Chris Morris 2010). Adil has worked as a workshop facilitator both nationally and internationally working on issues of identity, community cohesion and inter-faith dialogue.
From 2008-2011, Adil performed the lead role of Asif in four national tours of 'Hearts and Minds' and a DVD adaptation for the award-winning Khayaal Theatre Company. The critically acclaimed play follows a young Muslim's struggle with identity and his relationship with his faith, culture and wider society.
Alchemy Arts is a Media & Arts Social Enterprise based in Manchester, that Adil founded in 2012 it uses innovation and imagination as an instrument for social change. Alchemy supports people with special educational needs, mental health, dementia and addiction.
Alchemy was set up to work predominately but not exclusively with young people at the grass roots level using drama as a tool to explore and tackle issues that affect them in today's society and exploring how to make positive transformational change.
Adil is currently the Director and Operations Manager at Alchemy Arts. His role is to Develop and establish a variety of creative and innovative projects that build relationships with the community & secure their participation and meaningful engagement. He leads on and develops an effective team of part-time and volunteer staff focusing on achieving the companies' mission statement and building positive working relationships with other agencies.
Limited places available so please book your place now!
Tickets are subject to a donation, no matter how big or small, so that we can continue to fulfil our aim of engaging, uniting and empowering the British-Pakistani community.
The dresscode is smart attire.
This event is kindly sponsored by Eighteen Islamabad. Find out more about them here.