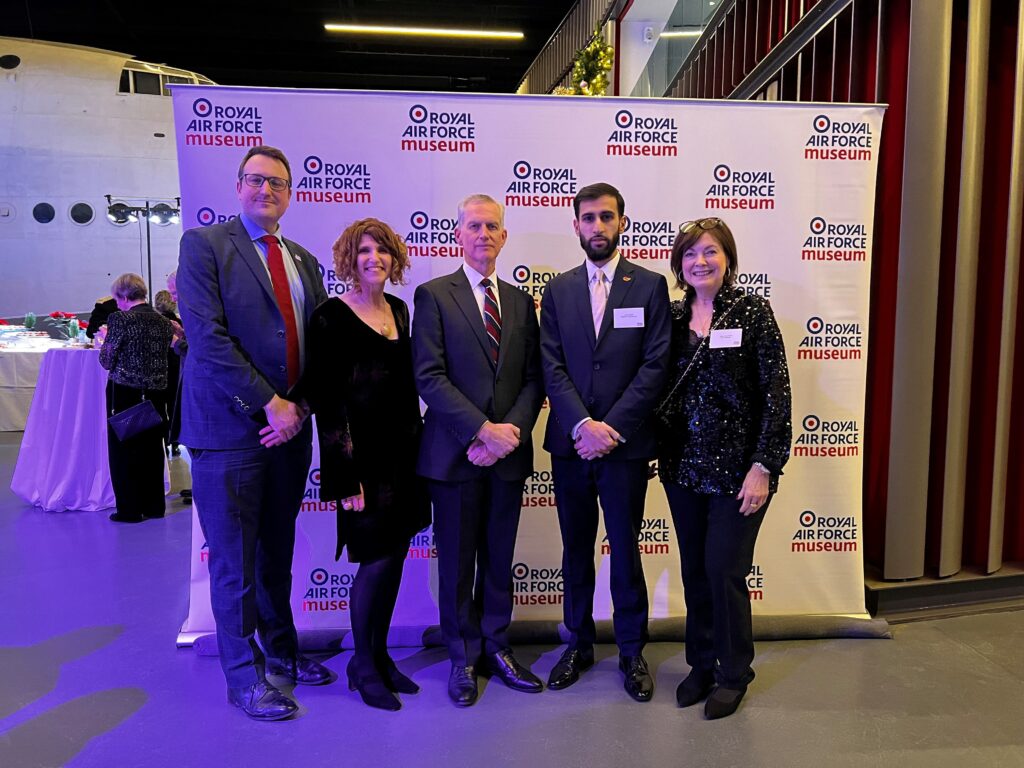 Image: L to R Edward Sharman (Head of Development), Maggie Appleton (CEO, RAF Museums), Air Chief Marshal Sir Stephen Hillier KCB CBE DFC ADC MA (Chair, RAF Museums), Asad Ansari (Board Member RAF Museums), Renée Coppinger (Development Manager)
Royal Air Force Appoints Youngest and Asian Museum Board Member
The Royal Airforce has appointed a young prominent Asian business leader based in the Midlands to sit on its Museum Board. Asad Ansari, 31, was appointed this month to the RAF National Museum Board to ensure the organisation serves the nation's diverse communities and attract a broader audience through its doors as part of its 2030 Strategic Vision. The Museum first opened in Hendon in 1972 and the RAF Museum in Cosford is now a unique heritage site with a focus on investing in young people, providing training and volunteering opportunities.
Asad, a Freeman of the City of London, and Managing Director of Mayfair IT Consultancy, will use his wide range of business and community engagement skills and contacts to support the organisation's fundraising committee. He said "I am honoured to be joining the Board of the RAF's National Museum and look forward to developing strategy and action to widen the pool of visitors to the museum, especially those from minority backgrounds and communities not usually associated with the organisation. Our 2030 Strategic Vision commits us to reach 755,000 visitors and I want our nation's national museum celebrating our outstanding Royal Air Force to visit and become associated with every part of the Midlands and across the UK."
Welcoming Asad to the Board, RAF Museum CEO Maggie Appleton said "The Board and I are absolutely thrilled to have Asad on board. His long-standing involvement in national and international organisations as well as his wealth of business and community engagement experience will help us to inspire everyone with the RAF story. As a board member, Asad will play a key role in setting the organisation's strategic direction and his contributions as a member of our fundraising committee will enable the organisation to move forward on a secure financial footing."
The RAF National Museum is expanding its programme charter to widen engagement and participation through visits, learning and storing collections while also contributing towards a carbon free and net zero community.