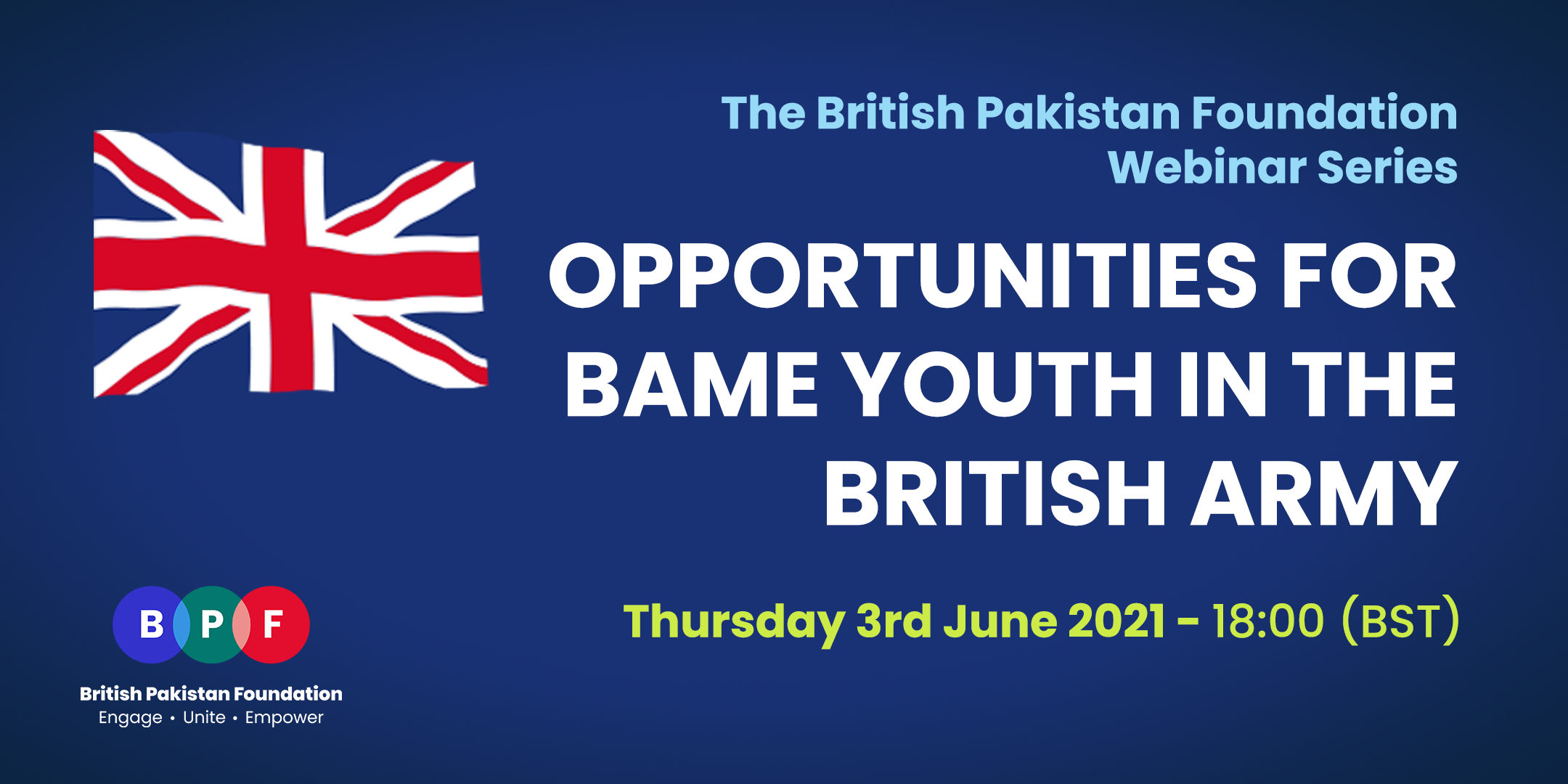 Map Unavailable
Date/Time
03/06/2021 6:00 pm - 7:15 pm
Categories
Event Start Date:
3rd June 2021
Event End Date:
3rd June 2021
Event Venue:
Online
A discussion with Major Naveed about how young professionals, especially from BAME community can have a career in the British Army
Speaker: Major Naveed Muhammad MBE
Moderator: Faryal Khan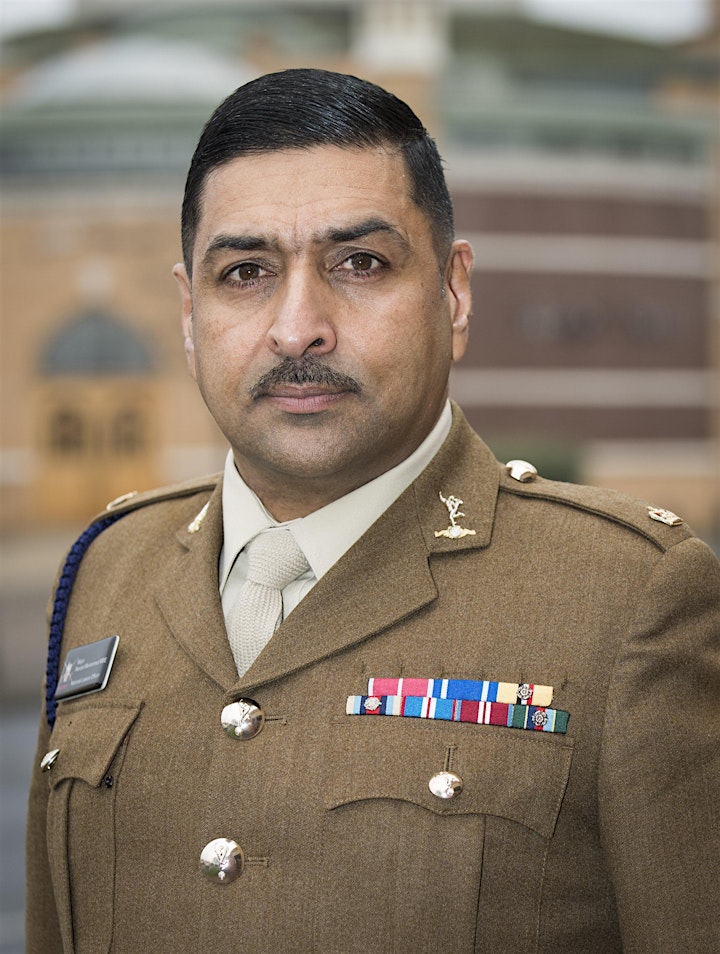 Major Naveed Muhammad MBE joined the Royal Corps of Signals Army Reserve in December 1987. Trained as a Communications Systems Operator, he held a normal mix of Squadron roles up to the rank of WO2. Commissioned in 2007, he embarked on the first of his Full Time appointments as Second in Command of the Birmingham Group of recruiting offices during which time the Group enlisted some of the highest numbers of recruits into the Regular Army.
He then undertook a tour as a Regimental Careers Management Officer of a Royal Signals Reserve Regiment prior to taking on his current role as the Army's National Liaison Officer. This role is delivering engagement with priority communities across the UK in order to improve the understanding of the Army as well as the wider Armed Forces in order to support MoD direction to make the UK Armed Forces more reflective of society whilst delivering the right mix of Regular and Reserve Service personnel
Major Muhammad deployed on operations to the former Yugoslavia in 1996 as part of the Peace Implementation Force and then to Iraq and Afghanistan in 2003 and 2010 respectively in support of the UK's commitments there. Major Muhammad visited Sierra Leone in 2015 during the British military's deployment to combat the deadly Ebola virus and supported key messaging activities to ensure that the local population was able to participate effectively in eradicating the disease. He has secured two prestigious Race for Opportunity awards. Firstly for recruiting, then as Chair of the Armed Forces Muslim Association whose aim is to support personnel in the Royal Navy, Army and Royal Air Force. For his exemplary service, Major Muhammad was awarded an MBE in the 2016 Queen's New Year's Honours.
More recently he has been involved in Defence Engagement, working within the MoD in improving the UK Armed Forces' reputation with strategic partner nations in Europe and the Middle East. In addition, Major Muhammad is at the forefront of engaging with BAME communities across the UK in order to ensure better mutual understanding, specifically focused around the role of the Armed Forces as well as the significant opportunities available to those who volunteer to serve.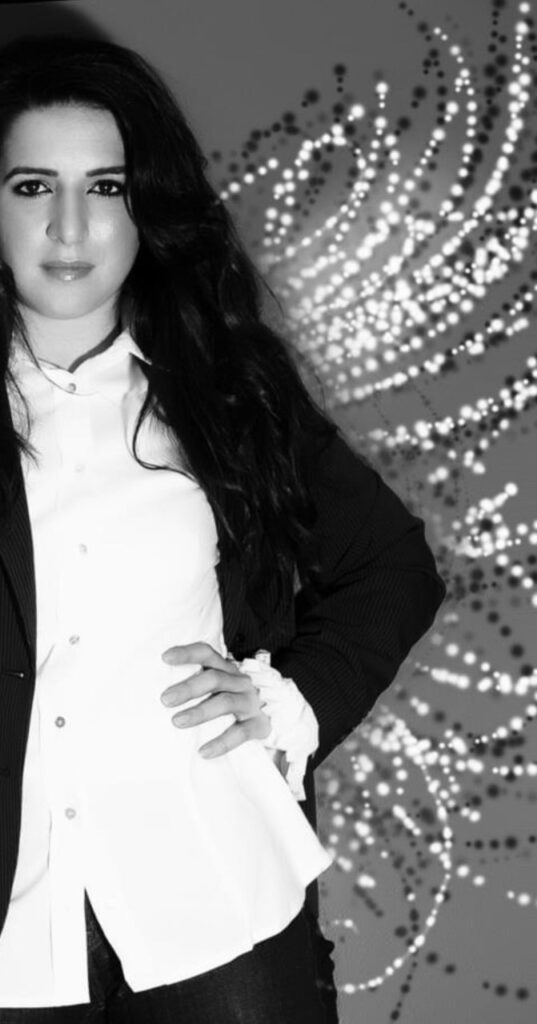 Faryal Khan has been working in the media sector for over 20 years. She has a Masters in International Relations and Politics. She dreamt of working in the Foreign service when she was at University but started her career in advertising and then developed a keen interest in television. She moved to the UK from Pakistan almost 25 years ago and put her career on hold to be a full-time mum.
She is currently working with the ZVM Rangoonwala Foundation and Valson International Ltd as Project Coordinator. She is also a presenter at ARY digital. In her spare time, she enjoys reading, music and travelling and like most Pakistanis, she is an avid sports fanatic.